AT&T Phone Number
Call AT&T customer service faster with GetHuman
Current Wait:
18 دقيقة
&nbsp
(17m avg)
Hours: Mon-Fri 8am-6pm EST; best time to call: 8:15am
Get targeted help: Tell us the issue so we get you to right rep, offer relevant tips, reminders & follow-up!
Get to a live person fastest:
أدخل رقم الهاتف أو اضغط 1 ، ثم 3 ، ثم 7 ، ثم 0 ، ثم 4 ، ثم 2 ، ثم 1 أو اضغط 0 # في كل مرة يطلب فيها رقم هاتفك
Reasons customers like you called recently
No soy cliente actual de AT&T* pero a trav*s de AT&T fueron enviados maliciosamente...
need witch showtime on dtv for *month for $*.**.
Need to speak with tech support regarding issues with fiber optic faulty cables
Where is my mobile data
I'm on the page to purchase a new phone, but I had questions
Unable to access YouTube tv. Google continues to bill me . Would like to speak with som...
I'm unable to access Youtubetv. I continue to be billed by Google. Would to speak with...
How do I watch Yellowstone the series
Change payment type new card. Bbbbbbb bb b bbbbbbjjjhgggggggggghjjjkkkjhhggggggggghhg...
A work crew on November **, ripped down my fence while attempting to clean around an at...
Can't log onto YouTube TV. It worked for months, now doesn't for past month.Wants me s...
Want to return equipment because we cannot setup service
Placed order online and paid for it then was emailed saying my order was partially canc...
activate prepaid sim card
change phone plan to unlimited $** plan. want to get the auto pay for a **$ discount. a...
See more recent reasons for calling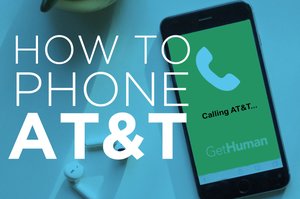 Our Editor's Notes on AT&T's Phone-Based Customer Care
AT&T is a telecommunications, home security, Internet and cable TV provider. As the largest telecommunications company in the world, AT&T maintains a comprehensive customer support system to meet its customer's needs. Many customers strongly prefer to contact AT&T over the phone for a direct conversation with a customer service representative.
Why do People Call AT&T Customer Service?
People call AT&T for many reasons, including:
Starting, changing or canceling services
Purchasing and upgrading devices
Technical support
Scheduling service and installation visits
Learning how to return or drop off devices and equipment
Contacting the Right Division
AT&T offers multiple services, including mobile and landline phone service, security, Internet service, and both satellite and cable television. Some of these services are offered under specific brand names such as DirecTV and U-Verse. When contacting AT&T customer service by phone, make sure that you are calling the number for the division or service you need help with.
Another thing to consider when locating phone numbers for AT&T is that some divisions have different numbers for different types of services.
For example, there may be separate toll-free numbers for new service requests, billing questions and technical support. Each number may also be taking calls during different hours. Checking this information before calling can save you time and frustration.
Tips for Calling AT&T Customer Service
Before calling AT&T customer support, make sure you have your account number handy. You can find it on your bill or via your dashboard on AT&T's website.
Each AT&T service or division has different call center hours, so it's a good idea to check ahead of time so that you know when to call.
AT&T does offer phone support for people with disabilities, including TTY calling for those who are deaf or hearing impaired.
How do People Feel About AT&T Customer Service Calls?
There are numerous reports online from people who are unhappy with AT&T phone-based customer service. Complaints range from long wait times to inaccurate information provided by a representative to promises not kept. There are, however, many other reports from consumers who are pleased with the customer care that they've received from AT&T representatives.
Media Cases
One newspaper documented a case in which a long-time customer of AT&T asked for an extension on his auto-pay due to a family illness that had depleted his checking account. An AT&T phone representative granted the extension, but the account was still charged, resulting in large fees.
In another case, a customer relocated and wanted to transfer her AT&T services. AT&T responded by canceling her current loyalty points, sending her multiple bills for services instead of one consolidated bill. She ended up spending hours of her time on hold with AT&T phone-based customer service, and her issues still were not resolved despite many promises.
What Issues Can AT&T Customer Service Resolve Over the Phone?
AT&T can resolve many consumer issues over the phone, including technical support, billing issues, selecting different packages and starting or ending service. Issues that aren't so easily resolved via phone include problems with malfunctioning and aged equipment and devices. These items will have to be brought or shipped to a service center for repair or replacement.
What Can I do if I am Dissatisfied with AT&T Phone-Based Customer Service?
If you've hung up the phone after a call to AT&T customer service and feel demoralized because your case was not resolved, don't fret. There are other ways off addressing your concerns.
You might first want to write down what happened during your last call. Then, write out a description of your problem and your desired resolution. Having this information in writing can help you explain your situation to other customer service specialists when you talk to them.
From there, consider these options for addressing your concerns:
Try calling AT&T back: In some cases, the training and experience of a customer representative can make a huge difference when it comes to customer satisfaction. If your first call didn't resolve the matter, dial AT&T again. A different representative may be better able to understand your concerns and get your situation resolved.
Consider live chat: AT&T offers live chat through its website and app. If you feel that you express yourself better in writing, or want a written record of your conversation with a customer service representative, live chat might be your best option.
Reach out over social media: AT&T has accounts on several social media platforms. You can connect with a specialist who can research your issue and help you get matters sorted out. As with live chat, you'll also have a record of your conversation, which may be useful if you have to escalate your case.
Visit an AT&T retail store: A face-to-face consultation with a store associate may resolve your issue. In addition, visiting a store may be the best way to get hands-on technical support for equipment or devices.
Customer Number 800-331-0500 - by the Numbers
رقم الهاتف للاتصال800-331-0500
إعادة الاتصال متاحنعم
تم التقاط المكالمة من قبل شخص حقيقينعم
القسم الذي تتصل بهخدمة العملاء وحسابات الأعمال
ساعات مركز الاتصالمن الإثنين إلى الجمعة ، من 8 صباحًا حتى 6 مساءً بتوقيت شرق الولايات المتحدة
أفضل وقت للاتصال8:15 صباحا
انتقل متاهة الهاتف إلى إنسانأدخل رقم الهاتف أو اضغط 1 ، ثم 3 ، ثم 7 ، ثم 0 ، ثم 4 ، ثم 2 ، ثم 1 أو اضغط 0 # في كل مرة يطلب فيها رقم هاتفك
متوسط الانتظار
الانتظار الحالي18
الرتبة (من بين أرقام الهاتف)1
الترتيب (العام)1
طرق بديلةالهاتف ، البريد الإلكتروني ، الفيسبوك ، الويب ، تويتر
جودة الاتصال64%
جودة المساعدة56%
تصويت العملاء48,706
تم آخر تحديث للمعلوماتFri Dec 02 2022 10:00:00 GMT+0000 (Coordinated Universal Time)
AT&T's Best Toll-Free/800 Customer Phone Number
هذا هو أفضل رقم هاتف لدى AT&T ، والانتظار في الوقت الفعلي في الانتظار وأدوات التخطي مباشرةً عبر خطوط الهاتف هذه للوصول إلى وكيل AT&T مباشرةً. رقم الهاتف هذا هو أفضل رقم هاتف لـ AT&T لأن 220,254 عملاء مثلك استخدموا معلومات الاتصال هذه على مدار الـ 18 شهرًا الماضية وقدموا لنا تعليقات. تتضمن المشكلات الشائعة التي تعالجها وحدة خدمة العملاء والتي ترد على مكالمات 800-331-0500 Cancel Service, Service Outage, Device Support, Dispute a Charge, Change Service ومشكلات خدمة العملاء الأخرى. لدى مركز اتصال AT&T الذي تتصل به موظفين من California, Florida, Georgia, Idaho, Iowa, Louisiana, Missouri, Montana, Oklahoma, Philippines, Texas وهو مفتوح Mon-Fri 8am-6pm EST وفقًا للعملاء. في المجموع ، يمتلك AT&T 19 رقم هاتف. ليس من الواضح دائمًا ما هي أفضل طريقة للتحدث إلى AT&T ممثلين ، لذلك بدأنا في تجميع هذه المعلومات التي تم إنشاؤها من الاقتراحات من مجتمع العملاء. يرجى الاستمرار في مشاركة تجاربك حتى نتمكن من الاستمرار في تحسين هذا المورد المجاني.
Contacting AT&T - by phone or otherwise
في حين أن 800-331-0500 هو أفضل رقم مجاني لـ AT&T ، هناك 23 طرق إجمالية للاتصال به. الطريقة التالية الأفضل للتحدث إلى فريق دعم العملاء ، وفقًا لعملاء AT&T آخرين ، هي الاتصال 800-756-0134 برقم هاتفهم لقسم زبائن الجدد. بالإضافة إلى الاتصال ، فإن الخيار المفضل التالي للعملاء الباحثين عن المساعدة هو عبر 800-756-0134 لـ زبائن الجدد. إذا كنت تعتقد أن هذه المعلومات غير دقيقة أو تعرف طرقًا أخرى للاتصال بـ AT&T ، فيرجى إخبارنا حتى نتمكن من مشاركتها مع العملاء الآخرين. And you can click here if you want to compare all the contact information we've gathered for AT&T.
What is GetHuman's Relationship to AT&T?
In short, the two companies are not related. GetHuman builds free tools and shares information amongst customers of companies like AT&T. For large companies that includes tools such as our GetHuman Phone, which allows you to call a company but skip the part where you wait on the line listening to their call technology music. We've created these shortcuts and apps to try to help customers like you (and ourselves!) navigate the messy phone menus, hold times, and confusion with customer service, especially with larger companies. And as long as you keep sharing it with your friends and loved ones, we'll keep doing it.